Start Date/Time:
Saturday, March 17, 2012 - 1:30 AM
End Date/Time:
Friday, March 16, 2012 - 8:00 PM
Location:
Pratt Institute, Higgins Hall
Host:
Brooklyn Community Foundation, Pratt Center for Community Development, and LISC NYC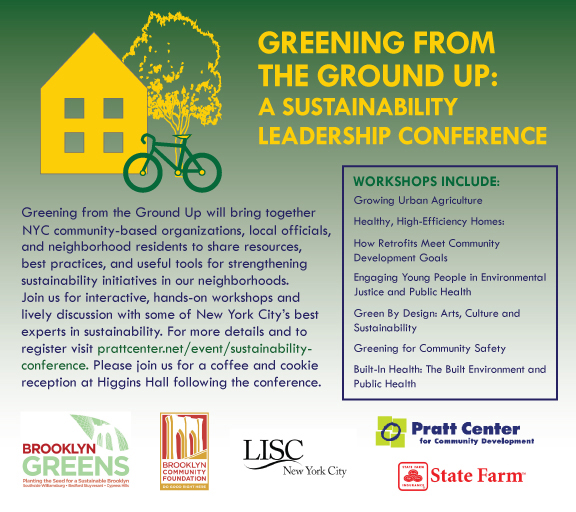 Drawing from the innovative Brooklyn Greens initiative and other neighborhood sustainability initiatives, Greening from the Ground Up Conference will showcase successes, make tools available and share strategies among community based organizations to harness collective action in the effort to make neighborhoods more environmentially friendly. Please join us for this free event.
---
Please register using the following link:
http://greeningfromthegroundup.eventbrite.com
---
Goals: The purpose of Greening from the Ground Up is to bring together community organizations from across New York City and beyond to share interim lessons learned as organizations seek to make urban neighborhoods healthier and more environmentally sustainable. Community leaders will be joined by government officials, funders and practitioners in energy efficiency, environmental justice, workforce development and related professions to share their successes and challenges. Pratt Center will document and disseminate copies of the presentations and outcomes of the conference.
Sponsors: Greening from the Ground Up Conference is a joint effort of the Brooklyn Community Foundation and the Brooklyn Greens partners that it supports - Pratt Center for Community Development, Bedford Stuyvesant Restoration Corporation, Cypress Hills LDC, El Puente and LISC New York City's Green and Healthy Neighborhoods Initiative with additional support from State Farm.
---
For detailed workshop descriptions:
www.prattcenter.net/event/sustainability-conference-workshops
Coffee, snacks and lunch will be provided