A Stronger Brooklyn Starts at Home

Above: The George Family, Heritage Row residents since 2004.
---
Building a Stronger Brooklyn Starts at Home
A few weeks ago on a bright March morning, a group of neighbors in Bed-Stuy celebrated the highly-anticipated renaming of our borough's newest revamped community space: the Heritage Row Playground.

Its new name honors the families who fought for its repair—the residents of Heritage Row Homes on Hart Street, a Habitat for Humanity development built in 2000. Twelve years later, the new playground is the latest sign of a thriving community, whose revitalization has its roots in forward-thinking community development.
As the Independence Community Foundation, we were early supporters of Heritage Row Homes, providing a five-year $5 million grant to Habitat-NYC to create an "urban Habitat model" for homeownership and community renewal.

"Building Habitat-NYC affordable homes is an updated, urban version of old-fashioned barn-raising: Thousands of neighbors from all walks of life join with our families to raise the walls of their future homes," said Josh Lockwood, Executive Director of Habitat-NYC.

"Over the past decade, the Community Foundation has been one of our most dedicated 'neighbors.' Since 1998, first as the Independence Community Foundation and now as the Brooklyn Community Foundation, its generosity has meant $20,000 for every Brooklyn home that Habitat-NYC built."

Habitat-NYC and its robust volunteer corps have built more than 100 new homes in Central Brooklyn, demonstrating how New York City can benefit from the Habitat model, particularly in our borough where vacancy rates are low and rents are sky-high. Their Atlantic Avenue Residences, completed in 2009, is the largest multifamily complex ever built by a U.S. Habitat affiliate.

"I almost had to move the children into my car, because we had nowhere else to go, but then Habitat stepped in, and we are so grateful."
- Heritage Row resident
Candace George

As Foreclosures Spread, Tenants Take Action

Connecting Brooklynites to affordable homeownership and rental opportunities is a core strategy of our Community Development grantmaking. Since 2000, the foreclosure rate in Brooklyn has more than doubled; the impact has hit tenants in rent-regulated buildings especially hard.

Last decade, with the boom in Brooklyn's real estate market, came a practice known as predatory equity. Real estate speculators purchased rent-regulated properties at inflated prices, promising their investors high rates of return that could only be achieved by raising rents and driving out existing tenants.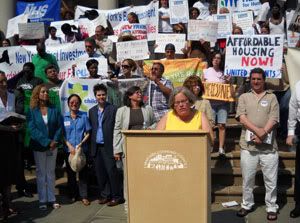 Residents have been left with crumbling walls and ceilings, no heat or hot water, and widespread disrepair. Owners, unable to meet their investors' expectations in the face of economic downturn, have defaulted on loans and abandoned properties.

It's a cycle that must be stopped. We recognized the practice early on, and helped organize the Partnership to Preserve Affordable Housing (PPAH)—a collaborative of six advocacy, affordable housing, and legal services groups—to combat it, preserve affordability, and rehabilitate distressed homes.

Last year, our donor community supported the collaborative with a $50,000 grant from our Community Development Fund for their work with tenants and tenant associations in buildings where affordability protections are threatened—to collectively articulate a clear vision for improved building conditions and involve them in decisions about future building ownership and long-term affordability.

"Through the support of the Brooklyn Community Foundation, PPAH has affected improvements in over 60 buildings where there are poor conditions, threatened loss of rental subsidies, harassment, and false submissions to regulatory agencies."
- Deb Howard, executive director of
the Pratt Area Community Council, a PPAH member


PAHH organizers are currently in 29 buildings of over 2800 units, to work with tenants to gain major repairs and provide basic services, stop harassment, challenge unlawful rent increases, and secure long term rental subsidies.

In order to make Brooklyn a better home to all of our residents—from tenants to homeowners—we must work to see that housing is not only affordable, but also stable and safe, in all of our neighborhoods. We applaud the determination of our partners and—with your help—we are laying a stronger foundation for our Brooklyn community.
---
What's Happening Across Brooklyn
Here are a few highlights of news and events we've shared with our followers this week. Don't miss a thing! Like us at Facebook.com/DoGoodBklyn and follow us at Twitter.com/DoGoodBklyn.


Calling All Nonprofits -- Brooklyn's Volunteers Need You!
The Brooklyn Community Foundation will launch a new Brooklyn-centric volunteer initiative next month at www.DoGoodRightHere.org. We'll be matching Brooklynites with volunteer opportunities at innovative nonprofits across our 70 neighborhoods. At this time, we're asking all nonprofits and community associations with volunteer needs to register on the site and post opportunities. To get started, email ereese@bcfny.org.

The Future is Sustainable
Join the Brooklyn Chamber of Commerce on Thursday, April 26 to explore Brooklyn's sustainable future and present through highlighting exciting projects relying on renewable energy technologies from wind/solar powered lighting to geothermal heat featuring venues such as: Brooklyn Navy Yard, Brooklyn Botanic Garden, Brooklyn Bridge Park and Broadway Stages. Space is limited! Advance registration is requested by Tuesday, April 24. Register at www.ibrooklyn.com/sustainable.

Brooklyn Food Conference
Brooklyn Food Coalition will host its annual free conference on Saturday, May 12 at Brooklyn Tech HS in Ft. Greene to bring Brooklynites together to build a local food system that provides healthy, affordable food for all and supports sustainable practices and justice for food workers across the food chain. For more information visit http://www.bkfoodconference.org.


Brooklyn's Outback
This week, the Prospect Park Zoo introduced the newest residents of their Australian Walkabout: four dingos! The dingoes, two males and two females, were born in Australia last year. The male/female pairs, Alkira and Binda, and Dacu and Cobar, will rotate on exhibit. The newcomers share their slice of Australian scrubland with emus, rock wallabies, Cape Barren geese, and a Western gray kangaroo.